Looking for rental housing?
Applications for rental housing can be found HERE or by clicking "Apply Online" below. Application and documentation can be emailed to don@cantonforallpeople.org, dropped off at 120 Cleveland Ave. SW Canton, Ohio 44702, or mailed. Applications are not considered complete until all income documentation is provided.
Application Process
All rental units are made available to households at or below 80% of AMI (Area Median Income), with some reserved for families at 50% of AMI.
FY 2022 Income Limit Area

Canton, Ohio HUD Metro FMR Area

 Household Size

1

2

3

4

5

6

80% AMI 

Max Gross Income

$43,050

$49,200

$55,350

$61,500

$66,450

$71,350
The application process is handled exclusively by Canton for All People. At the time of application, property management will need several documents for identity and income verification. Applications are not considered complete and cannot be reviewed until all documents are submitted to property management.
A copy of these required documents can be found HERE.
After an application is submitted a criminal, credit, and sex offender report is run. It is our policy to go back seven (7) years from the date of your application when reviewing criminal records. 
Have a pet? A copy of the Healthy Homes Pet Policy can be found HERE.
Already a C4AP renter?
Please submit all maintenance and emergency work orders directly to Canton for All People at 330-455-0153 and leave a message. Work orders can also be submitted via email at don@cantonforallpeople.org.
Frequently Asked Questions about Rental Housing
Does Canton for All People provide emergency or temporary housing?
Canton for All People provides permanent housing and does not offer emergency or temporary housing. Crossroads UMC maintains two transitional units in its building. For more information visit the Epworth Housing page in the Crossroads UMC tab above.  If you or someone you know is facing homelessness, call the homeless hotline, 330-452-4363. 
Is there a waiting list for available rentals?
Due to the shortage of affordable housing in Canton there is often a waiting list for units. Interested households are encouraged to contact Canton for All People in regards to the waiting list. 
Where are the rentals located?
Canton for All People has rental properties scattered throughout the 44703 zip code. The majority of these units are single-family homes or duplexes with 2 or 3 bedrooms. 
Does Canton for All People accept Section-8 vouchers?
Yes.
Can I apply for housing if I have a felony?
Any household member who has been arrested or convicted of a felony including by not limited to murder, rape, robbery, burglary, weapons charge or arson will disqualify the household for tenancy. Similarly, no household with a member who has been arrested or convicted of gang-related activity, whether felony or misdemeanor, will be considered for housing. If applicant appeals rejection and has proof that charges were dismissed that can be provided at the appeal, the applicant will be considered for housing but must meet all requirements of the Tenant Selection Criteria.
rental homes available & coming soon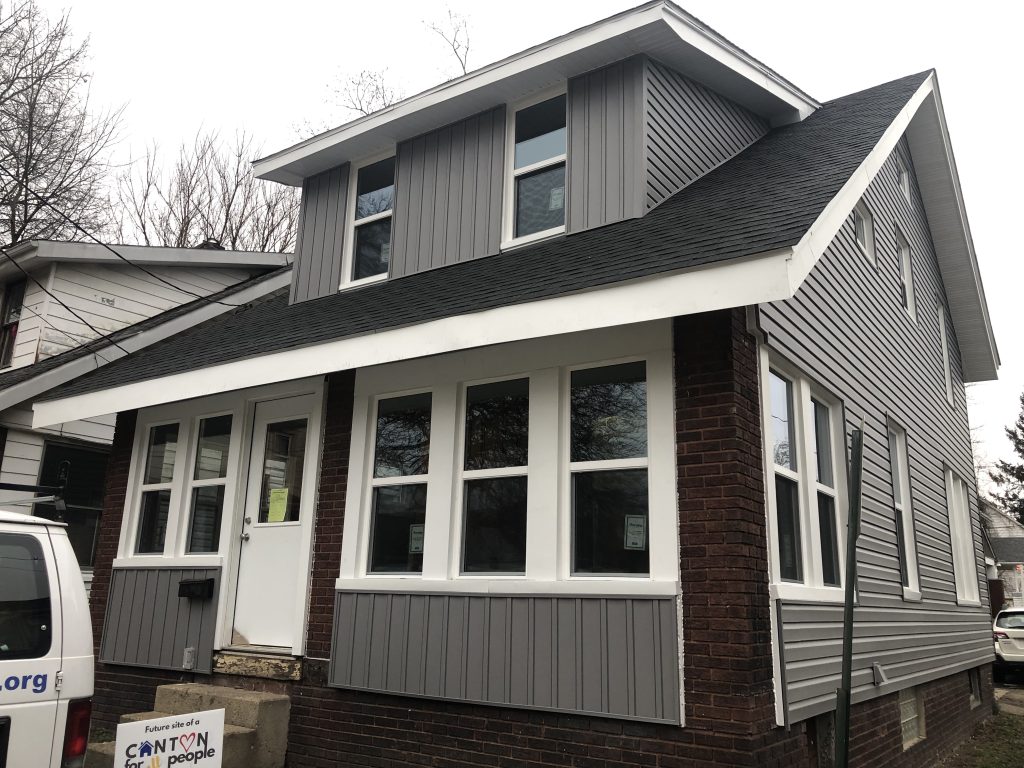 818 Gilmore Ave. NW Canton, Ohio 44703 – $750 mo
Available for move in January 2023
3 Bedrooms
1 Bathroom
1500 Sq. Ft.
This home was completed renovated in 2022 and includes new HVAC, appliances, windows, flooring, and roof.  The home also features an enclosed front porch and open kitchen and dining room. Parking available on cement pad near the back door of the home.